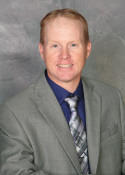 Welcome to International Falls School District. I am honored to be a part of an outstanding educational team that continues a long standing tradition of graduating students that are ready to meet the ever changing demands of the world. The following mission statement is a true belief that the school board and school employees strive for: "In partnership with parents and the community, the International Falls School District will prepare every student to become a productive citizen by developing their maximum potential within a safe climate of mutual respect and trust." I encourage parents to be active in the education of their child, communicate with teachers, and let us know how we can help.
The district offers educational opportunities in early childhood and family education, preschool, elementary, high school, and concurrent enrollment college courses. We are working to meet the needs of all families with regards to providing the best education possible at all age levels. I invite interested families that are not familiar with our district to come in for a tour and let us have a conversation. The district has a rich history in extra and co-curricular programs and in my view this makes for a well-rounded educational opportunity. Learning is a lifelong process and we will continue to change with the needs of our families, please let us know your ideas so that we can grow along side of you.
I hope you find our website helpful and if I can be of assistance, please let me know. Go Broncos!
Kevin Grover
ISD 361 Superintendent
218-283-2571 ext 1112